The Ontolica Best Bets Web Part creates a special, eye-catching display that lists those pages from the current result list that have been configured as "Best Bets" in Ontolica and/or the SharePoint search engine. All "Best Bets" pages from the result list are shown by the web part, regardless of where they would have otherwise been placed in the result ranking; results configured as Best Bets are furthermore removed from the standard result list by SharePoint, so you must use the Best Bets Web Part in addition to the standard SharePoint Search Result Web Part if you have configured Best Bets in Ontolica or SharePoint. Usually, you will place this web part at the top of the standard result list.
Figure: An example of how Best-Bets can be displayed to users on the result page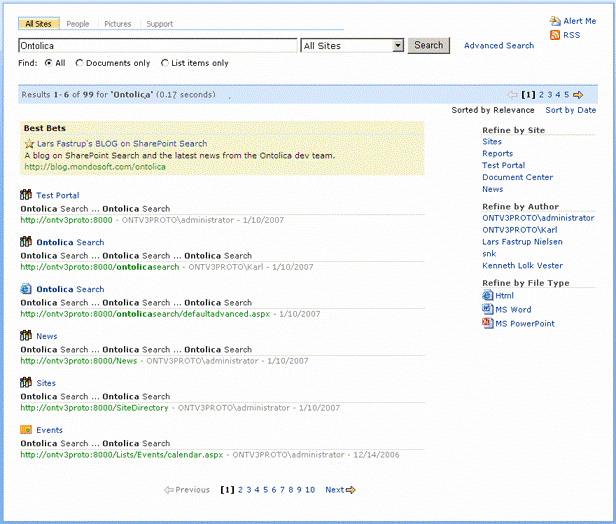 Each Best Bet is defined with one or more trigger words and maps these to a specific URL that will be promoted whenever a user searches for one of those words. Both Ontolica and SharePoint provide a system for establishing Best Bets; you can use one, both or neither of them as required (the Best Bets Web Part can combine Best Bets from both sources if you like). See "Creating and Configuring Ontolica Best Bets" for details about how to configure Ontolica Best Bets for your various search tabs; please see your SharePoint documentation for details about how to configure pages as Best Bets using the standard SharePoint mechanism.